Screening for Peripheral Vascular Disease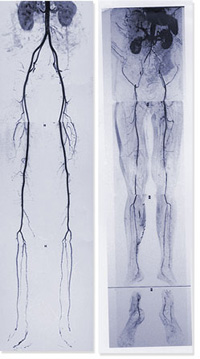 Screening for Peripheral Vascular Disease
Benefits of Screening for Peripheral Vascular Disease
To help diagnose and treat patients with risk factors and/or symptoms that may predispose them to Peripheral Vascular Disease, University Radiology now offers non-invasive Peripheral Arterial Exams at our Metuchen and Tinton Falls offices. The results of this relatively inexpensive study will give you the information needed to determine the likelihood that the patient has Peripheral Vascular Disease and its extent. This testing is particularly helpful in the evaluation of patients with a history of coronary artery disease, hypertension, diabetes, renal insufficiency or smoking history with symptoms of leg pain or nonhealing ulcers.
Within 24 hours, the physician will receive a report which includes testing results and recommendations regarding appropriate patient management.
A sample report is shown in the case study below. This painless test is performed on state-of-the-art equipment under the supervision of one of our Board Certified Interventional and Vascular Radiologists and a Registered Vascular Technologist.
Case Study/Further Discussion
University Radiology Imaging Centers Offering Screening for Peripheral Vascular Disease