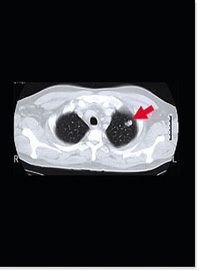 Lung Cancer Screening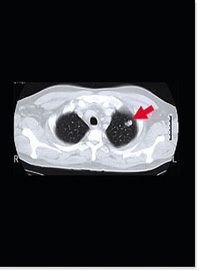 Benefits of Lung Cancer Screening
Clinical Review of Lung Cancer Screening with CT
FAQ (Frequently Asked Questions)
Case Study/Further Discussion
Lung Cancer Screening
Benefits of Lung Cancer Screening with CT
More people die of lung cancer than breast, colon and prostate cancers added together. Early detection is critical. Major research centers show survival rates improving from 15% to 80% with new CT protocols offered by University Radiology. With CT, small tumors, which are not visible on conventional chest x-rays, can be seen at an earlier, more curable stage.
Smokers and ex-smokers should be screened for lung cancer, even if they quit 15 years ago. Patients very concerned about lung cancer may also benefit from this evaluation of their lung health.
Clinical Review of Lung Cancer Screening with CT
Below is a discussion about the Early Lung Cancer Action Program (ELCAP) study which shows that early detection is possible. Study findings are illustrated with radiographic images obtained at University Radiology.
Key Points
Stage 1 Lung Cancer has a 70%, 5 year survival rate. Survival rates for later stages are between 12% and 15%. Stage 1 tumors are difficult to detect on chest X-rays.
New CT protocols, developed by the ELCAP multicenter investigation team, have been found to be significantly more sensitive in detecting early stage cancer in smokers and ex-smokers.
ELCAP study results demonstrate that new CT scanning protocols can detect Stage 1 tumors when not yet visible on chest X-ray.
Frequently Asked Questions about Lung Cancer Screening
How is an exam scheduled?
First, patients will need to obtain a prescription slip from their physician. A "Lung Cancer Screening CT" should be the study requested. The patient or the referrer's office staff should call 800-758-5545 to schedule an appointment.
How does the patient prepare for the exam?
No special preparation is necessary. Ten painless minutes is all it takes.
Who interprets this study?
Lung Cancer Screening CTs are studied by a select group of our radiologists who are specialists in chest health.
When will the results be available?
Test results will be sent to the physician within a few days of the exam. Included in that report will be followup recommendations specific for the patient.
Case Study/Further Discussion