Andrew S. Novick, M.D.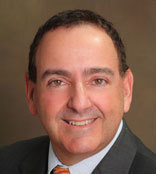 Andrew S. Novick, M.D.
Subspecialty
Diagnostic and Interventional Radiology
Undergraduate
University of Pennsylvania; B.A. 1978

Medical School
Mount Sinai School of Medicine; M.D. 1982

Internship
Booth Memorial Medical Center; Internal Medicine 1982-1983

Residency
The Mount Sinai Hospital; Radiology 1983-1986

Fellowship
S.U.N.Y. Downstate Medical Center; Cardiovascular and Interventional Radiology 1986-1987

Board Certifications
American Board of Radiology 1987

Procedures Performed
Adrenal Venous Sampling (AVS), Parathyroid Selective Venous Sampling (SVS), Portal Vein Sampling; Thyroid Imaging and Biopsies; Peripheral Venous and Pulmonary Artery Thrombolysis and Interventions, Hepatic Chemoembolization; Minimally-Invasive Image Guided Biopsies; Chemotherapy Port Placement and Complex Venous Access; Dialysis Access Related Interventions; Thrombolysis, Angioplasty, Stenting; Percutaneous Gastrostomy, Percutaneous Abscess Drainage, Percutaneous Cholecystostomy, Percutaneous Nephrostomy and Renal Interventions; Percutaneous Biliary Interventions; Uterine Fibroid Embolization (UFE); IVC Filter Placement and Retrieval; Percutaneous Pulmonary Thrombectomy.