Sudipta (Sid) Roychowdhury, M.D.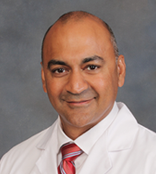 Sudipta (Sid) Roychowdhury, M.D.
Subspecialties
Neuroradiology, Interventional Neuroradiology
Undergraduate
Northwestern University, IL; B.S. 1989

Graduate
Northwestern University, IL; Honors Program in Medical Education, 1992

Medical School
Northwestern University, IL; M.D. 1992

Internship
St. Joseph Hospital, IL; 1992-1993

Residency
Northwestern University, IL; Radiology 1993-1997; Chief Resident 1996-1997

Fellowship
Hospital University of Pennsylvania; Neuroradiology 1997-1999

Board Certifications
American Board of Radiology 1997; Diagnostic Radiology

Certificate of Added Qualifications
Neuroradiology, 1999
Procedures Performed
Endovascular Treatment of Brain Aneurysms, Endovascular Treatment of Stroke, Endovascular Treatment of Neck and Spinal Arteriovenous Malformations (AVM) and Arteriovenous Fistulas Percutaneous (AVF), Percutaneous Treatment of Head, Neck and Spinal Vascular Malformations; Kyphoplasty, SpineJack Kyphoplasty, and Vertebroplasty of Spinal Fractures, Sacroplasty, Radiofrequency Ablation and Cryoablation of Spinal, Pelvis, Sacral and Axial Skeleton Bone Tumors, Pediatric Interventional Neuroradiology Procedures, Vein and Galen Malformation Embolization, Cerebral and Spinal Angiography; Percutaneous Treatment of CSF Leaks, Combined Embolization, Cryoablation and Cement Plasty of Advanced Bone Tumors, Embolization of Head and Neck Tumors, Embolization of Uncontrolled Nosebleeds.