Sudipta (Sid) Roychowdhury, M.D., FACR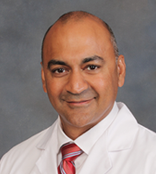 Sudipta (Sid) Roychowdhury, M.D., FACR
Subspecialties
Neuroradiology, Interventional Neuroradiology
Undergraduate
Northwestern University, IL; B.S. 1989

Graduate
Northwestern University, IL; Honors Program in Medical Education, 1992

Medical School
Northwestern University, IL; M.D. 1992

Internship
St. Joseph Hospital, IL; 1992-1993

Residency
Northwestern University, IL; Radiology 1993-1997; Chief Resident 1996-1997

Fellowship
Hospital University of Pennsylvania; Neuroradiology 1997-1999

Board Certifications
American Board of Radiology 1997; Diagnostic Radiology

Certificate of Added Qualifications
Neuroradiology, 1999
Procedures Performed
Endovascular Treatment of Brain Aneurysms, Endovascular Treatment of Stroke, Endovascular Treatment of Neck and Spinal Arteriovenous Malformations (AVM) and Arteriovenous Fistulas Percutaneous (AVF), Percutaneous Treatment of Head, Neck and Spinal Vascular Malformations; Kyphoplasty, SpineJack Kyphoplasty, and Vertebroplasty of Spinal Fractures, Sacroplasty, Radiofrequency Ablation and Cryoablation of Spinal, Pelvis, Sacral and Axial Skeleton Bone Tumors, Pediatric Interventional Neuroradiology Procedures, Vein and Galen Malformation Embolization, Cerebral and Spinal Angiography; Percutaneous Treatment of CSF Leaks, Combined Embolization, Cryoablation and Cement Plasty of Advanced Bone Tumors, Embolization of Head and Neck Tumors, Embolization of Uncontrolled Nosebleeds.
Publications
Al-Mufti F, Kamal N, Damodara, Nuoman R, Gupta R, Alotaibi N, Alkanaq, A, El-Ghanem M, Keller I, Schonfeld S, Gupta G, Roychowdhury S. Updates in the Management of Cerebral Infarctions and Subarachnoid Hemorrhage Secondary to Intracranial Arterial Dissection: A Systematic Review. World Neurosurgery Vol 121, January 2019, Pp 51-58 PMID 30268550.
Gupta G, Eckstein, D, Narayan V, Jumah F, DePalma A, Sozio S, Prendergast N, Schonfeld S, Keller I, Al-Mufti F, Nosko M, Nanda A, Roychowdhury S. Endovascular Management of Intracranial Vertebral Artery Dissection: Technical Nuances for the Preservation of the Posterior Inferior Cerebellar Artery and Basilar Artery. Operative Neurosurgery June 2020 PMID: 32526018.
Al-Mufti F, Amuluru K, Walia J, Dodson V, Wajswol E, Nuoman R, Gupta G, Roychowdhury S. Neuroendovascular Cerebral Sinus Stenting in Idiopathic Intracranial Hypertension. Interventional Neuology Vol 8, 164-171 2019. Doi 10.1159/000500051.
Dow F, Shah K, Gupta G, Censullo M, Roychowdhury S. Interventional Removal of Traumatic Nail from Skull Base After Endovascular Coiling of Internal Carotid Artery and Jugular Vein. World Neurosurgery Vol 155, pp 130-142 July 2018 PMID: 29689400.
Sundararajan S, Calamita S, Girgis P, Ngo G, Ranganathan S, Giglio M, Gendel V, Goyal S, Nosher J, Roychowdhury S. Sequential Interventional Management of Osseous Neoplasms via Embolization, Cryoablation and Osteoplasty. Journal of Oncology Vol 2019 ID 5247837 PMID: 31110519.
Zeller S, Majmundar N, Gupta G, Narayan P, Roychowdhury S. First Reported Use of Onyx for the Treatment of a Middle Cerebral Artery Aneurysm in a 3-Month-Old Infant. Journal of Vascular and Interventional Neurology Vol 11 No 3 PP 151-155. August 2020.
Cheng S, Hakkinen I, Zhang P, Roychowdhury S. Paradoxical headache in a case of chronic spontaneous intracranial hypotension and multiple perineural cysts. Headache 2021;61:1291-1294.